Here at Columbia Physical Therapy, we are driven by our mission statement to provide physical therapy in a professional, caring, and pleasant environment. Our entire staff works hard to provide a patient-first atmosphere in which your comfort and care are our primary concern. Your satisfaction is how we define our success!
Our Physical Therapists are highly trained and use only safe and effective evidence-based physical therapy. Education is important to our staff, and through seminars and continuing education, we ensure our therapists know the latest and most effective techniques in their field. All of this means a faster, better and more comfortable recovery for you!
Matthew Pattillo, PT
Physical Therapist
Matthew was raised in Kennewick Washington and graduated from Kennewick High School. He attended Brigham Young University and earned his Bachelor of Science degree in 1997. In 1999 he graduated from Eastern Washington University with a Master of Physical Therapy degree.
He has worked in the Tri-Cities doing outpatient physical therapy since that time. Matthew enjoys working in physical therapy for the chance to help people improve their lives. He believes physical rehabilitation should be fun and works to deliver treatments in a kind and caring manner. He also enjoys the science of physical therapy, understanding the processes of bodily injury and making the clinical decisions necessary to get people back to their best possible level of function. He is experienced in seeing most physical conditions warranting outpatient physical therapy and has earned a reputation specifically in the areas of back stabilization, foot pain, and sports rehabilitation.
Matthew married Laura Giesler of Pasco in 2003 and they have a bustling family with 5 children. He enjoys family activities, physical fitness, sports, and carpentry. He also likes learning about other cultures and is fluent in Spanish.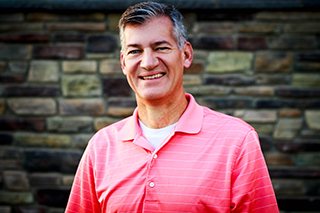 Kirk Holle, PT
Physical Therapist
Kirk graduated from BYU in 1990 with a BS in exercise science while he also played on BYU's national championship football team. He then graduated from the University of Alabama at Birmingham in 1993 with an MS in physical therapy. Kirk has worked for Columbia Physical Therapy since 1995 and is now one the primary owners of the physical therapist owned company. Kirk has a special interest in orthopedic rehabilitation. He has been involved in the treatment of athletes and has volunteered at local high schools and middle schools as a coach as well as a physical therapist. He offered a free Bumps and Bruises Clinic on Saturday mornings for the diagnosis and treatment of injured athletes. He has also offered free ACL screening clinics for local athletes. Kirk has expertise in the treatment of injured workers and has been trained extensively in performing performance capacity evaluations, work conditioning, and work hardening.He takes pride in helping injured workers return to their job-related goals.
Kirk offers one-on-one treatment to each patient and provides quality manual therapy with effective exercise prescription. He believes patients can learn to become independent caretakers of their own health and function. He enjoys working with various conditions and with patients of all ages.
Kirk is married to Kat Zoolakis and they enjoy spending time with their four kids, Kramer, Tyler, Tanner and Kendyl. Outside of work, Kirk's interests include hiking, golfing and running. He is very active serving in his church and in the community.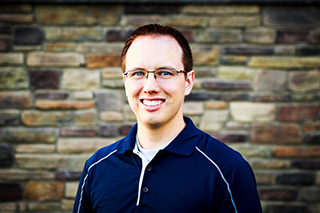 Jake Parsons, PT
Physical Therapist
Jake grew up in Kennewick, WA and graduated from Southridge High School. He attended Brigham Young University in Provo, UT, earning a BS in Exercise Science in 2008. He continued on with graduate school at the University of Nevada, Las Vegas (UNLV) and graduated in 2011 with a Doctorate of Physical Therapy (DPT). He began working shortly thereafter in the acute care setting of a large hospital in Henderson, NV. He specialized in the early mobilization and rehabilitation of patients receiving total joint replacements (knee, hip, shoulder, etc) and spinal fusions/laminectomies.
He has worked everywhere from the emergency room to the Intensive Care Unit. Jake joined Columbia Physical Therapy in 2012 as their full-time traveling PT, covering for therapists in their WA and OR clinics. He is now very excited to be permanently joining the team in the Kennewick clinic.
He is certified in instrument-assisted soft tissue mobilization (IASTM), as well as Fascial (FMT) and Performance Movement Taping (PMT) with RockTape, a type of kinesiology tape. He is also fluent in Spanish and thoroughly enjoys communicating with the Hispanic community in their native tongue.
Whether it is recovering from an ankle sprain, or from a total knee replacement, Jake believes in treating people like family and including them as an integral part of their own program. He enjoys helping people return to what they love to do.
Jake married his wife, Marissa in 2007 and they now have two young boys, Tyler (5) and Lincoln (3), and a girl, Brooklyn (1). When not working, Jake enjoys spending time with his family, serving people in his community and church, running, cycling, and playing basketball, as well as many other sports.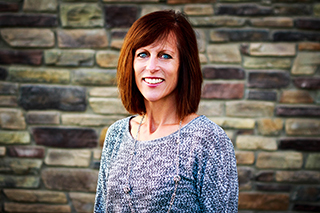 Julie Brown, PT
Physical Therapist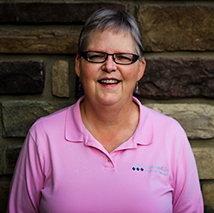 Teri Miller
Office Manager